Guards patrolling hundreds of cells at the sprawling facility on the outskirts of Moscow bang their keys together to signal that an inmate is being escorted from their cells to an interrogation room, according to former prisoners, their families and their lawyers. Others snap their fingers in the hallways, where fluorescent lights buzz day and night, a warning there should be no other prisoners in sight and as few personnel as possible.
The interrogation cells are mostly bare except for a wooden table, a few chairs, a gray safe and a wall calendar produced by the Federal Security Service, or FSB, Russia's main domestic intelligence and security agency. A window looks onto an empty courtyard.
"You cannot see anybody, and you are completely alone," said Andrei Soldatov, a security analyst and journalist who was questioned several times in Lefortovo before he emigrated to London. "There is not a noise, nothing.… It really makes you crazy."
Last week, The Wall Street Journal's Evan Gershkovich was escorted into Lefortovo, which has held high-profile inmates including Soviet author Alexander Solzhenitsyn, several 1991 coup plotters against Soviet President Mikhail Gorbachev and former U.S. Marine Paul Whelan. The 31-year-old is the first overseas journalist to be charged with espionage by Russia since the Cold War.
To understand what life is like for Gershkovich, the Journal spoke to former Russian and American prisoners at Lefortovo, lawyers who have regularly visited and historians who have chronicled the facility's grim place in Russian and Soviet lore. They described a sterile facility engineered to keep inmates from ever seeing one another, an isolation that makes Lefortovo hard to endure.
Also read:
• Blinken: 'No doubt' Russia has wrongfully detained WSJ reporter Evan Gershkovich
• Detained reporter Evan Gershkovich loved Russia, the country that turned on him
• How to support detained WSJ reporter Evan Gershkovich on social media
Trevor Reed, a U.S. Marine Corps veteran who spent four days in Lefortovo last year, said it was the most sinister of the six prisons where he was held while serving three years of a nine-year sentence. He was convicted of assaulting a Russian police officer, a charge he denied.
"Why don't I hear anyone? Why don't I see anyone?" he recalls asking himself. "This place was so locked down, I don't even know if I had yelled out that other prisoners could have heard me.… Whenever you move in the prison you'd see no one at all." Reed was released last April in a prisoner swap for Konstantin Yaroshenko, a Russian pilot convicted in U.S. federal court of drug smuggling.
Gershkovich's lawyers visited him for the first time on Tuesday, six days after he was detained. "Evan's health is good, and he is grateful for the outpouring of support from around the world," Wall Street Journal Editor in Chief Emma Tucker wrote in an all-staff email on Tuesday. "We continue to call for his immediate release."
The Journal denies that Gershkovich is a spy, and he pleaded not guilty in a recent closed court hearing, according to Russian state news agency TASS. Gershkovich was in Russia on a journalist visa and carried press accreditation issued by Russia's foreign ministry. "These charges are ridiculous. Evan is not a spy," White House press secretary Karine Jean-Pierre said on Tuesday.
Gershkovich is likely in "quarantine," former inmates and lawyers said, a procedure that normally lasts two weeks, during which inmates are held alone and tested for hepatitis B and other diseases. Lawyers concerned for his welfare say his status as a high-profile American prisoner could spare him some of the worst conditions and treatment that Russian detainees might face.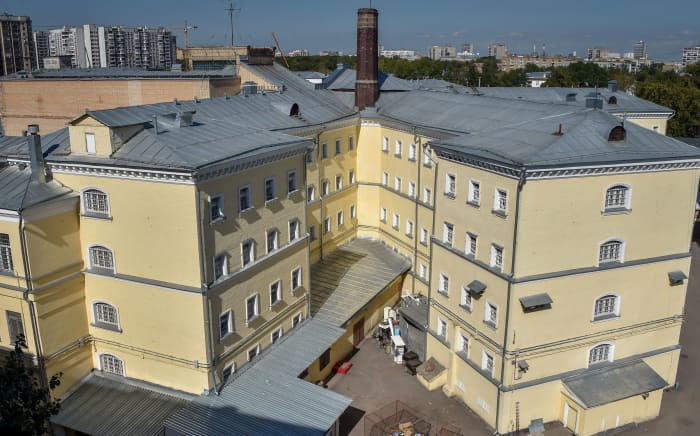 Nestled on the leafy side streets of a quiet neighborhood in eastern Moscow, Lefortovo has since the late Czarist era held thousands of accused spies, dissidents, writers, rebels, and all other manner of political prisoners and hardened criminals. Soviet detainees held in other prisons would recall their guards issuing a warning: "If you keep on being stubborn, we'll send you to Lefortovo."
Widely seen as a symbol of the state's control of the Russian people, the prison today is a pretrial detention center whose inmates are sometimes held for a year or more. The FSB's investigative department sits in an adjacent bloc, easing its officers' access to inmates.
Officers moving between buildings swipe keycards at thick security doors that remain locked until their faces are cross-checked by colleagues manning cameras in a command center. Nearly every person a prisoner meets, down to custodians delivering food through a hatch in the door, reports to the FSB.
"Lefortovo is the most isolated place to be, and this is the torture," said Marina Litvinenko, wife of the former FSB officer Alexander Litvinenko. He spent 8 months in Lefortovo on a charge of exceeding the authority of his position. After Litvinenko was released and emigrated to London, he was fatally poisoned by polonium-210, a death that a U.K. inquiry said was probably ordered by Russian President Vladimir Putin. "They wanted him to be broken," Marina Litvinenko said. "They wanted to catch a bigger fish. They wanted to break a person to say whatever they wanted him to say."
Alexei Melnikov, executive secretary of Moscow's Public Oversight Commission, a state-sponsored prison-monitoring committee, said Lefortovo's facilities have improved since the 1990s. "It's essentially one of the best detention centers in Eastern Europe," said Melnikov, who described himself as a supporter of Putin's government. On Sunday, he visited Gershkovich. "I asked him, 'How does Lefortovo compare with jails in the U.S.?' " Melnikov said.
In the prison's roughly 9-by-12-foot cells, a light that shines during the day is made brighter at night. Translucent windows barely a foot long are set above eye level so inmates can only see the Moscow sky, according to recollections from former inmates, family and visitors to the prison. Two steel-framed beds with foam mattress pads lay alongside a stainless steel toilet. The walls are empty save for a wash basin and a flat-screen TV. Every few minutes, a guard peeks in through a circular window on the door.
Reed said other Russian facilities were so full of graffiti that there was barely space for him to carve "U.S. Marine Corps" and "F– Putin" into a concrete wall, but Lefortovo was "scary clean."
After quarantine, Lefortovo prisoners are often housed in pairs, but have to be careful about how much to share with cellmates, said Ivan Pavlov, a lawyer who has represented dozens of detainees inside the complex, and who now lives in Germany. "It's possible that the person in the cell would be informing for the FSB," he said.
Family and friends are typically prevented from visiting high-profile inmates at the prison and may see the accused only during brief court appearances. Russian journalist Ksenia Mironova said she wasn't allowed to visit her husband, Ivan Safronov, a former aide to the head of Russia's space agency. Safronov spent more than two years at Lefortovo after being charged with treason in 2020. He was convicted and sentenced to 22 years in prison. 
Inmates receive a daily hour outside their cell, usually in one of the cell-sized courtyards on the roof, where they walk under a mesh of iron bars. The prisoners aren't handcuffed, but asked to walk with hands crossed behind their backs. Guards, armed with automatic rifles, peer down from a gangway above.
Crime and Punishment
Named after François Le Fort, a 17th-century nobleman from Geneva who advised Russian Czar Peter the Great, the complex is so shrouded in secrecy that it is unclear what year it opened, according to a study published by Proekt Media, a Russian investigative-journalism outlet. The Bolsheviks publicized Lefortovo as a model penitentiary, although it soon became the site of Stalinist torture and executions.
"It's not until you start to get into the mid-'30s that it really established its reputation for being a place of horror," said Giles Udy, a British historian who specializes in the Soviet prison system.
In the basement, Joseph Stalin's secret police executed a never-counted number of victims in the 1930s. "They used tractor engines to drown the sound of shooting," Soviet writer Eugenia Ginzburg wrote in a 1967 gulag memoir. Under Putin, FSB officers have used those underground rooms as a shooting range, said former inmates.
Solzhenitsyn, the dissident author of the prison account "The Gulag Archipelago," wrote of a black-painted cell lighted day and night by a dangling 25-watt bulb. Prisoners who complained would receive a "penalty kick" to the groin by one Col. Sidorov, he wrote. Others would be pushed into a cold and tiny "punishment cell."
"One received hot gruel on the third day only," Solzhenitsyn wrote. "For the first few minutes you were convinced you'd not be able to last an hour. But, by some miracle, a human being would indeed sit out his five days, perhaps acquiring in the course of it an illness that would last him the rest of his life."
To break the monotony, U.S. citizen and embassy worker Alexander Dolgun—arrested during a lunch break shortly before Christmas 1948—would pace the floor to calculate the exact distance he'd walked and imagine he was traveling the thousands of miles between Moscow and America. Dolgun, accused of espionage charges he denied, was released in 1956.
In 1986, U.S. News & World Report correspondent Nicholas Daniloff, an American, spent 20 days in Lefortovo on an espionage charge he denied before Moscow swapped him for a Soviet employee of the United Nations in New York, whom the FBI had previously arrested in a sting. 
"I, too, was taken to Lefortovo, which has been used to house prisoners when Moscow wanted to make an example of them," he wrote in a Journal opinion article on Tuesday. "To my fellow Russian correspondent Evan Gershkovich: Courage."
In 1994, with Russia stumbling from decades of Soviet rule into a chaotic new era, the FSB lost its investigative apparatus and control of the detention center. Russia's Interior Ministry took over Lefortovo and filled it with organized-crime figures in addition to political prisoners, according to a 1997 report in Russian business newspaper Kommersant. 
The FSB regained its investigative duties by presidential decree in 1996, according to Kommersant, along with effective control of the prison. It restored Lefortovo's function as the detention center for those accused of treason, espionage, political corruption and other high crimes.
Former Marine Whelan, who had traveled to Russia to attend a wedding, was held in Lefortovo before being dispatched to a prison colony in 2020 in the Russian region of Mordovia to serve a 16-year term for espionage. Whelan has denied the charge, and the U.S. considers him wrongfully detained.
Sergei Skripal, a former colonel in Russian military intelligence, was held at Lefortovo until he was convicted in 2006 of passing secrets to Britain's foreign intelligence service, MI6. Four years later, the Kremlin swapped him and three others for a group of Russians accused of operating in the U.S. for Russia's Foreign Intelligence Service.
In 2018, the U.K. charged two Russian men with poisoning Skripal, who had moved to the English town of Salisbury, and his daughter with a nerve agent. The U.K. said Russia was likely behind the attack. The pair survived. The Kremlin denied involvement.
Last year, FSB agents arrested Dmitry Kolke, a scientist with stage 4 pancreatic cancer, unplugged his intravenous line, removed him from his deathbed and took him to Lefortovo. He died there, said his family, who denied the charges that he spied for China. Ukrainian military officers, captured during the siege of Mariupol, are also being kept in the prison.
Erast Galumov, a publisher who spent more than three years there on a charge of illegally disposing of printing equipment, told Russian newspaper Moskovsky Komsomolets last month after his release that "Lefortovo creates a feeling that you will never be released again."
Red Carpet
Inmates' first steps into Lefortovo take them onto a red carpet "that reminded me of the Stalin years," said Igor Rudnikov, a journalist who spent 10 months in Lefortovo in 2018. Like other high-profile prisoners, he was greeted at the marble-fronted entrance by the prison management. On a nearby wall is a notice board with portraits of uniformed employees who have distinguished themselves through their service. "In Lefortovo, the Soviet Union is in the air, it never died," he said.
New arrivals are taken for processing where they stand in a metal cage and are strip searched before they surrender their belongings. They are woken daily with a 6 a.m. bang on the cell door. They can be called for hours of questioning at any time, marched to the second floor of an adjacent building and a row of numbered interrogation rooms.
"They ask a lot of bureaucratic questions in a very slow manner.… They seem to be very unsophisticated, but it's a trick," said Soldatov, the security analyst. Interrogators would try to reframe inmates' answers into their own bureaucratic language to imply guilt, he said. 
Prisoners aren't allowed to make phone calls or send emails and several inmates said they had to wait months to see a lawyer. They can receive letters, including from non-Russians, who must have access to a Russian credit card and phone number. Two video cameras are mounted in the cells.
"The reason there are video cameras is for the inmates' own safety and to make sure the guards that work there are not violating the rules either," said Melnikov, the pro-government human rights monitor. "For the lawyer to come, it can happen on any day, all they need to do is show up."
The guards, always clean-shaven and in strong physical shape, talk with pride about the facility's importance to the state. A guard escorting Rudnikov stopped to show him an assembly hall and explained that Lavrentiy Beria, Stalin's longest-serving security chief, used it to interrogate purged military leaders at night. Beria's ghost, they told him, still visits after dark. Prison guards used the same room to cast ballots for the 2018 presidential elections in which Putin won a fourth term in office with 77% of the vote.
"They are very proud of the history of this prison," said Rudnikov, who said he would use one word to describe Lefortovo. "Isolation. It's a frozen place.… The moment you arrive there, you are no longer a person with rights."